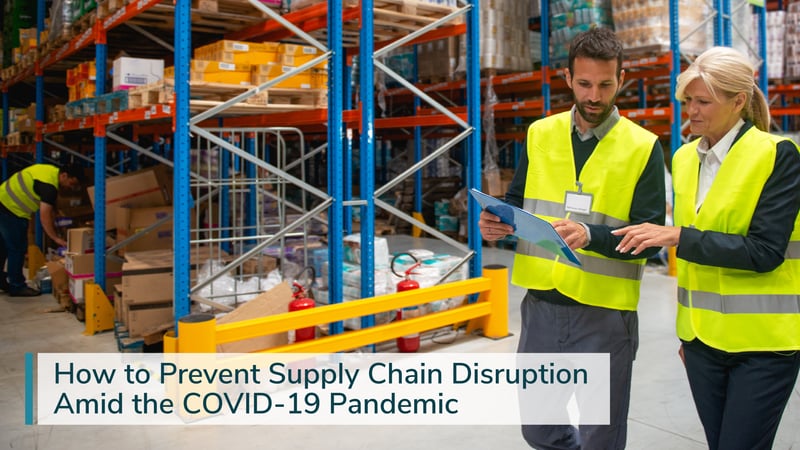 These days, the word "uncertain" applies to all aspects of our lives. When we aren't worrying about our health and that of our loved ones, we're worried about whether we will have access to the supplies we need to continue daily life. A lot of that anxiety for businesses and consumers alike is around supply chain disruption, product availability and increased cost pressure.
As a supply chain professional, you know that the only certainty you can plan for is uncertainty. You need to have the tools to accommodate any disruptions in your supply chain.
Here's how you can lessen the impact of supply chain disruption during the COVID-19 pandemic.
Evaluate how your current component manufacturers are performing
Although the United States and many other countries have only been seriously working to mitigate the spread of the virus since March, China has been working to contain the virus for months now.
If most of your parts are made in China, you have likely noticed the supply chain disruption and a delay in part delivery - resulting in a delay for product delivery. What you may not yet know is whether those parts meet your quality standards. Many factories are rushing production while understaffed to meet deadlines.
Everyone, from component manufacturers to EMS providers to OEMs, is stretched thin right now. However, there are signs that your usual component manufacturer may be currently unable to provide you with the quality you used to expect. You can start by simply asking your usual contact about how things are going locally and what the company is doing to mitigate global supply chain disruption amid COVID-19. If the supplier is slow to respond, unwilling to answer direct questions or you're noticing rapid personnel turnover, you may want to turn to another source.
Build your list of pre-approved component manufacturers and distributors
Finding new or alternative component manufacturers can take weeks. You spend a lot of time internal testing with engineering and emailing back-and-forth with component manufacturers about specs, pricing, quote building and more. Meanwhile, the global picture is changing daily - even hourly - which makes timeliness more critical when keeping your supply chain intact.
Ideally, you already have alternate component manufacturers pre-approved. Having a few alternates vetted ahead of time helps cut down on some of the back-and-forth time. If not, start doing your research now on potential new component manufacturers to learn more about their company, its finances, location, pricing and track record.
When buying electronic components through distributors, you may also need to look for alternative distributors to supply parts. If your distributor doesn't have the part(s) you need, you'll need to have alternate distributors in mind and determine whether they 1) have enough inventory and 2) can provide you with parts at a fair price.
To keep production moving, you need to know which component manufacturers you can trust with your business amid global disruption. You also need accurate data about which component manufacturers are currently stocked, what their prices are and how effectively they can supply you with the parts you need.
Find ways to manage material costs
As we continue to see greater supply chain disruption, and as manufacturers across the supply chain become more desperate, cost pressure will increase. If you aren't able to reliably obtain the parts you need on time or for the right price, you may need to reconsider whether you actually need that specific part.
There are several ways that you can relieve cost pressure in your supply chain:
Periodically evaluate different distributors to make sure you are getting the lowest possible price compared to the current market price.
If you are planning to negotiate pricing with a component manufacturer or distributor, then use a service or tool that can help you identify what the average price that other companies are paying to give you an idea.
Look for a lower-cost alternative, preferably one that is form, fit and functionally equivalent to your current component so that it requires minimal effort from engineering to approve it.
If you are an OEM and have a negotiated price with a component manufacturer, make sure your contract manufacturer is getting that price and passing it on to you.
You'll likely need to rely on internal teams to help you identify alternate parts to relieve cost pressure. Ask the engineering team to review the BOM and research new parts. They may be able to suggest alternate parts or find new ways to configure the product to bring down its overall cost. If you already have a list of approved component manufacturers, as noted above, you can begin reaching out to them to determine if they have alternate parts available.
Regardless of what's going on in the outside world, being able to quickly identify alternate parts creates a safety net for your supply chain. Having a system in place for finding which parts can be used as alternates for other parts will help you adapt in a rapidly changing environment.
Create an intelligent risk management plan
The reason why you diversify your supply chain is to minimize risk. You likely already have a risk management plan. How has it been working amid the supply chain disruption during COVID-19?
An effective risk management plan is modeled, tested and updated regularly. For your risk management plan, you should know:
What are the new lead times if you switch to a different component manufacturer?
What are the costs of switching providers?
What alternative part can you use if the one in your BOM is unavailable?
What constraints might this place on your team?
While you can't plan for everything - whether's it's a natural disaster or a global pandemic - you can make sure that you're armed with the information you need to make data-driven decisions.
COVID-19 and the future of supply chain disruption
We'll be experiencing supply chain disruption due to the COVID-19 pandemic for at least the next 12 to 18 months. In order to adapt, OEMs and EMS providers will have to be agile, ready to make informed decisions quickly that help them build quality products and deliver on time.
Having real-time data from Part Analytics' AI-driven platform will help you stay prepared amid supply chain disruption due to COVID-19. The Part Analytics platform harmonizes data from multiple, disconnected sources, bringing visibility to cost and risk and automating manual processes to increase efficiency and speed, resulting in cost reduction opportunities of up to 20%. Learn more and book a demo.